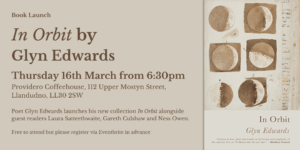 Join us at Providero Coffeehouse on Llandudno seafront for the launch of In Orbit by Glyn Edwards. There will also be readings by guest poets Laura Satterthwaite, Gareth Culshaw and Ness Owen.
In Orbit is a sustained narrative of love, loss and longing. Using a variety of innovative forms, the poems in Glyn Edwards's second collection explore grief and how we come to terms with losing someone close to us. The natural world offers sustenance and a new perspective in the face of intense emotions as a man struggles to come to terms with news of a beloved teacher's death.
Signed copies of the book will be on sale, and the team at Providero will be selling a range of light refreshments.
Attendance is free but please register to let us know you'll be attending.
Accessibility: Please contact sarahjohnson@serenbooks.com if you have any access needs we can help with.
Covid-19: Please feel free to wear a mask if it would make you feel more comfortable.