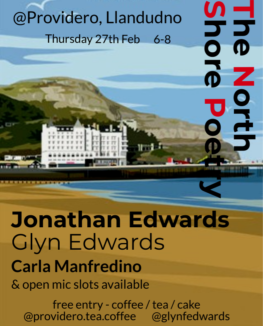 Details

Contact: 01492 338220
Where: Providero Fine Teas & Coffees Mostyn Street Llandudno LL30 2SW
Cost: Free
The North Shore Poetry is a quarterly event of poetry and fiction in Providero Coffee in Llandudno, North Wales.
Free entry. Cake and tea (and more cake) will be available from 6pm. Readings to begin at 6:30. 
Thursday 5th December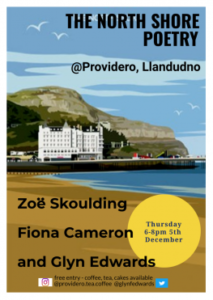 The opening night featured the poets Zoe Skoulding and Fiona Cameron. Zoe Skoulding is the former Editor of Poetry Wales and a Senior Lecturer at Bangor University and read from her Seren collection, Footnotes to Water. Fiona Cameron also lectures at Bangor University and her collection, Bendigo, was published by Knives, Forks and Spoons Press.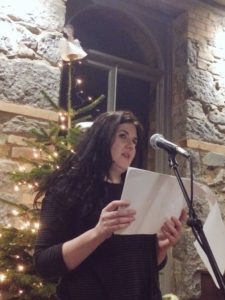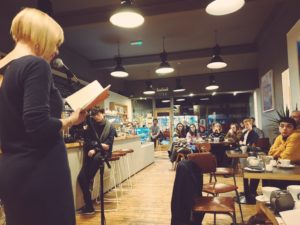 Thursday 27th February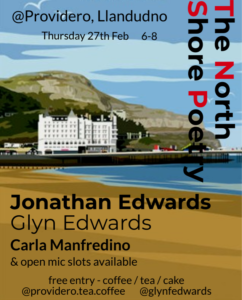 Jonathan Edwards will headline the North Shore Quarterly on 27th February. Jonathan is the Editor of Poetry Wales and his debut collection My Family and Other Superheroes (Seren, 2014) was recently chosen by booksellers as one of their top 25 favourite poetry books of the last 25 years following a survey by National Poetry Day, taking its place amongst collections by Maya Angelou and Alice Oswald. His second collection Gen (Seren, 2018) won Wales Book of the Year People's Choice 2019. 
Carla Manfredino has an MA in Creative and Life Writing from Goldsmiths in London. She reads for The White Review, has written for Planet and the TLR and volunteers as a writing mentor at The Ministry of Stories. Here's a short story read by Carla on the Lonely Crowd website